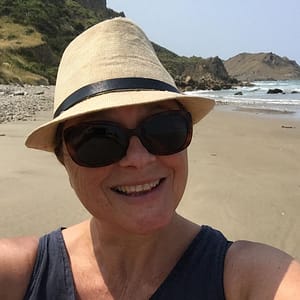 I'm on a journey to reduce my waste, get rid of unnecessary chemicals and plastic from my home, leave a smaller footprint and to live better.
Most of my products are made with wild plants that I've foraged while I'm out walking. I believe that wild plants contain so much more energy than cultivated varieties, as they need to eek out their existence without the pampering and TLC afforded to those in our backyards. There are so many plants and "weeds" growing naturally that we no longer appreciate, but which have such great healing and nourishing properties. Plus so many of them make fabulous natural colourants in soap! I love learning about them and using them where I can to enhance my products.
All products are handcrafted with love by me in small batches in Havelock North, using fabulous 100% natural, nourishing ingredients. All packaging and shipping materials are made from recycled paper, and are recyclable or compostable to help avoid unnecessary waste.
I use all the products I make, and if there is something I don't have that you would be interested in, please let me know as I always love a new challenge.
Thank you for visiting, I hope you find something you like.  If you have any questions or would like to visit my home-based pop-up shop please check out my FAQs here or get in touch.
Karen x
NO synthetic colours or fragrances
NO palm oil
NO harsh chemicals
NO parabens
NO detergents (SLS/SLES)
NO alcohol
NO petrochemicals
ONLY tested on willing family and friends.